CNC turning aluminum parts are widely used in many industries, such as Automotive parts, Medical Devices, Consumer Products, Industrial Equipment, Artificial intelligence, Biotechnology,etc. Based on the huge requirements of CNC turning and lathe parts. SuNPe can provide successful and professional solutions for prototyping and low volume production on CNC turning parts.
Here are
CNC turning
parts for 3D Printer. They are aluminum parts with external thread for the bearing locknut. They require tight tolerance +/-0.012mm for the diameter with color anodizing and get them quickly.
The drawing for turning, threading, drilling and chamfering
1.Get tight tolerance CNC turning parts in short lead-time
A.When got the order, a DFM meeting is arranged to analyze all the details and set processes: to ensure the parts can finish in second day for inspection and anodizing early on the third day, Programing and machining will be finished in 24 hours.
B.The parts need drilling holes, tapping threads and machining chamfers. Our engineers use suitable cutters and all the features can be machined once on machining time to keep tight tolerance.
C.The parts need anodizing after machining. We have considered to +/-0.002mm allowance for all diameters when programing and CNC turning to ensure all of them meet +/-0.012 tightly.

CNC Turning process at SuNPe
D.Inspection before anodizing: for threads , we use NO-GO & GO Gauge after cleaning the surface . For other dimensions, to ensure the tolerance within +/-0.012mm, we will check and verify them with Micrometers or CMM full inspection.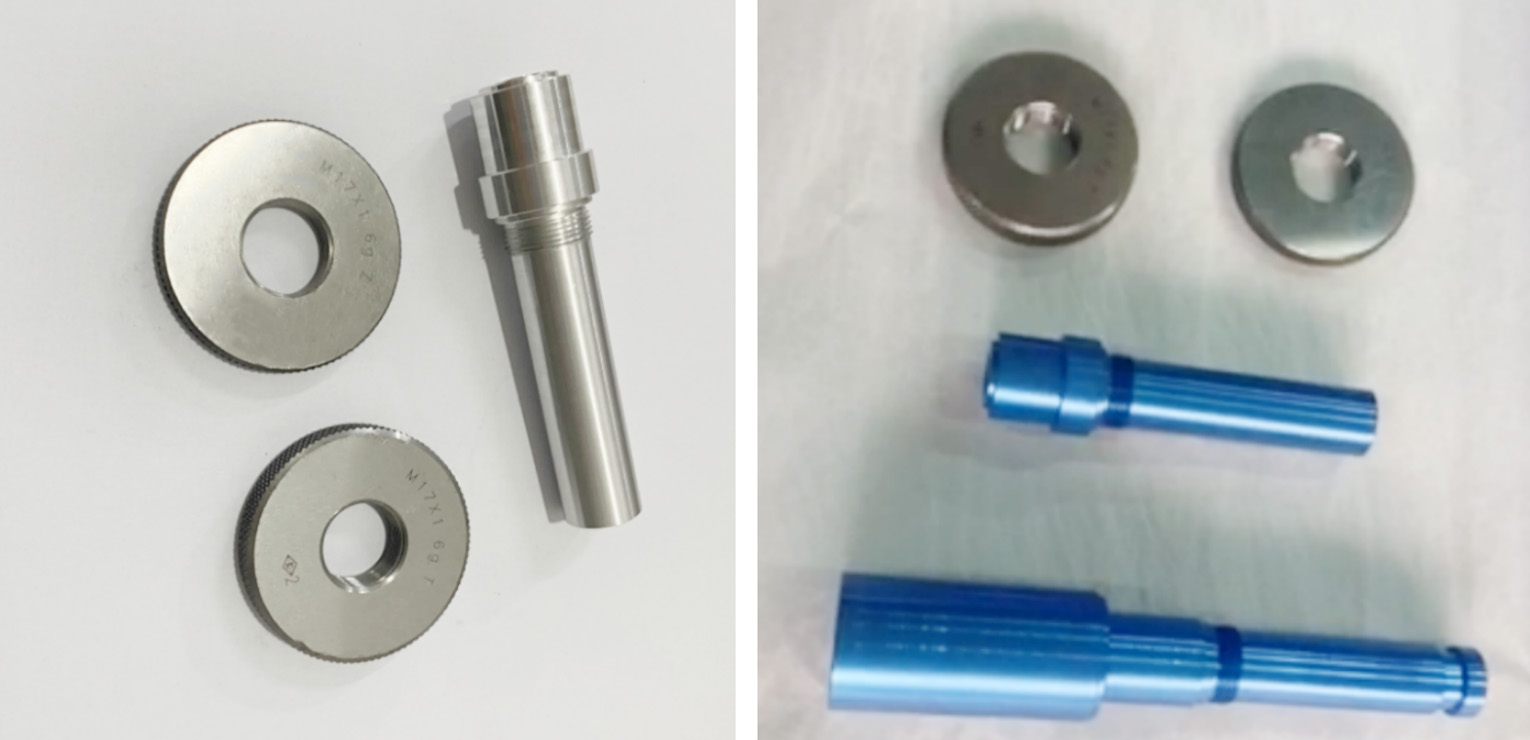 Inspection threads before and after anodizing
2.Color anodizing match close 90% or more for the aluminum parts
The client needs
color anodizing
to make the parts more durability and more attractive color for their usage. We normally use RAL or Pantone color code to match and dye different colorS with anodizing process for aluminum parts. To match the color above 90% or more, we will have sample first, once achieve and pass colorimeter test, we will apply the same color for ready parts. Then we will inspect color again by colorimeter devices and compare the actual parts with the color code to make sure all are correct and matched.

Color anodizing surface compared to color code
3.Good feedback from client and build a better cooperation
After passing final QC, we ship the parts rapidly and the client has them on time. We have received very positive feedback from client, he was so satisfied and promised to send more projects for manufacturing. We have built a long-term and friendly co-operatio.
Excluding aluminum , we can also CNC turning parts with other metals or plastic materials, such as steel, brass, copper with plating surfaces, and other functional plastics such as PP,POM ,PA and so on . If you have any inquiry for our services, please
contact us
right now.