SuNPe offers on demand manufacturing services for custom prototypes and low volume production parts of consumer products, which helps to shorten development period and speed up project promoting in designing and research stage.
How does SuNPe support this Customized Coffee Machine from design to market?
At SuNPe, we make this coffee machine that requires different materials and techniques with our comprehensive one-stop services for our customer. This coffee machine was made from ABS, PMMA, AL6061 and AL5052 material. We provide metal and plastic in CNC machining, sheet metal and vacuum casting services form prototyping to low-volume production for this project. The most important thing is the safety of materials and the use of functions. We use advanced verification equipment inspects all incoming materials to qualify.

(CNC machining, vacuum casting and sheet metal) (Finished metal and plastic parts)
Cosmetic surfaces and texture feel are important for this coffee machine. SuNPe has a wide range of seamless surface finishing services in-house. They include all kinds of colors in matte, gloss, metallic, rubberized, clear coat anodizing, chrome plating, or powder coating to achieve the look and performance you need. For the aluminum parts, we do sandblasting before anodizing which can make a good look and corrosion resistance. If you want to make your logo shown on the part, SuNPe can also make your design into reality. We can silk screen print your text and graphic on the parts. Besides, we can also do CNC engrave and laser engrave to achieve this.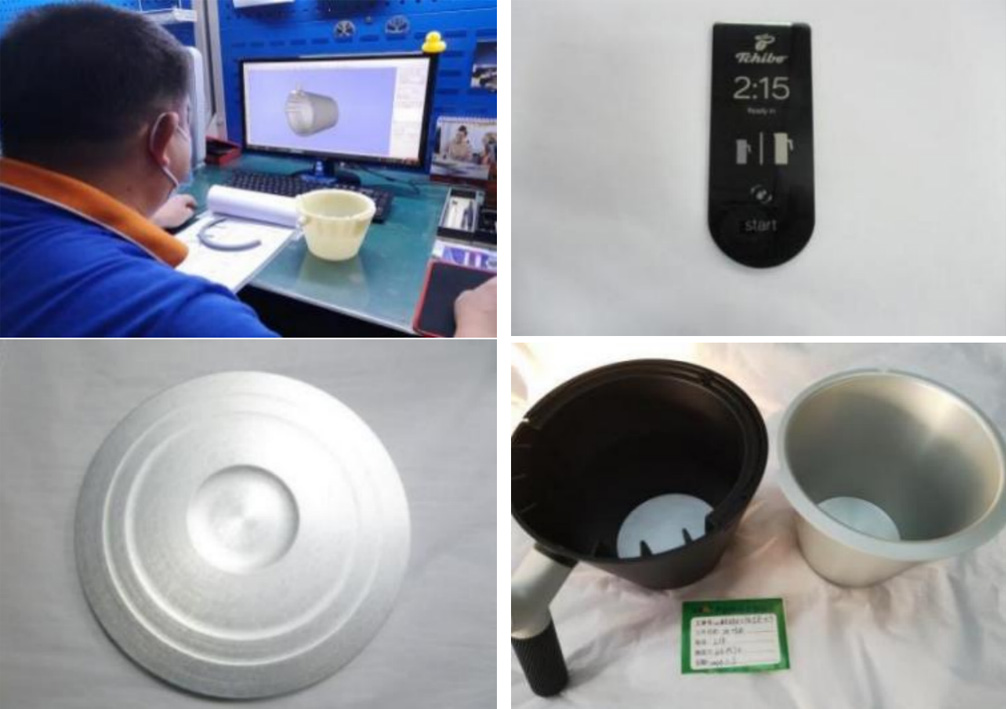 (Sandblasting, anodizing, silk screen print)
How Does SuNPe Guarantee the Quality for this coffee machine project?
We have professional engineering team to make sure 3D files and 2D drawings are consistent before production. In addition to various tests and inspections by the QC team and advanced testing equipment, we can also assemble and test the fit before shipment, which can help to reduce unnecessary cost and time. After first article trial assembly, ensure that there are no problems before delivery. Then we do the final assembly and ship out the coffee machine.
SuNPe also can make customized consumer products like coffee machine, juicer machine, cooker hood, cleaning machine, and so on, if you have any projects or questions about consumer products like this, welcome to contact us! We are on standby for any further discussion.