Plastic ultrasonic welding service at SuNPe.
Plastic ultrasonic welding service at SuNPe.
Do you know how to make different plastic components stick to be together ?
For metal components, SuNPe can provide with
welding processes
such as arc welding, resistance welding, gas welding, induction welding, and laser welding. The traditional method for plastic components is to glue together. For vacuum casting and mould injection process, we can achieve the
over-moulding process
.
For CNC different plastic parts, we can also provide the ultrasonic welding service. The methods of ultrasonic plastic welding are such as embedding welding, riveting welding, spot welding , molding welding, excision welding .
What is plastic ultrasonic welding ?
Ultrasonic welding is a hi-tech technology to weld thermoplastic parts. All kinds of thermoplastic plastic parts can be treated by ultrasonic welding without adding solvent, adhesive or other auxiliary parts. It is through the local application of high-frequency . Ultrasonic vibration, so that the components under pressure to hold together, thus forming a solid weld. It is commonly used to connect different hard plastic materials.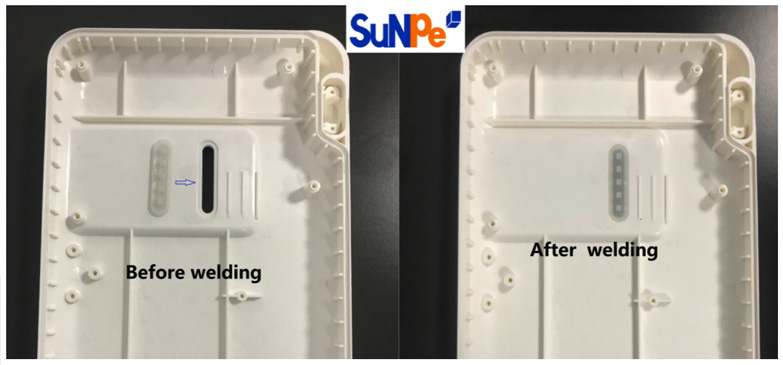 What hard plastic materials are well suited to ultrasonic welding ?
For example, ABS, PMMA, PC , PVC and so on, they are amorphous polymers. Two parts made from the same plastic material will show the best effect.
The ultrasonic welding machine used at SuNPe.
SuNPe has introduced a ultrasonic welding machine so that we can offer more comprehensive services for our customers. After welding, the whole product is waterproof and strong sealing to meet the diversified needs of customers.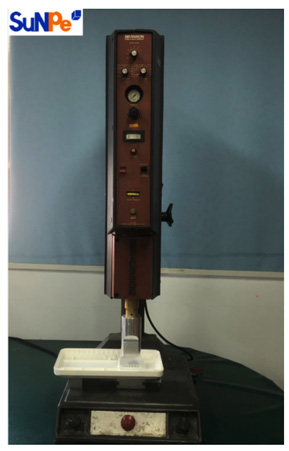 The advantages of ultrasonic Welding :
1. High Speed. The ultrasonic horn creates a weld almost instantly. In most cases this is only a second. As soon as the weld is back to a normal temperature, the bond is nearly as solid as it can be.
2. Safety. The ultrasonic waves are focused on the welded product only, it reduces anything dangerous happening. Compared to traditional gluing, ultrasonic welding avoids to add any harmful substances and can compliance with RoHS certification.
3. It can be used for welding of both thin and thick parts. Preparation of welding is kind of easy.
4. The surface would be very clear after welding, the ultrasonic welding machining has clear embossing and high-grade and beautiful appearance, and there is no burr, curling situation. It saves lots of manual working to grind the surface.