1.What is Knurling?
Knurling is a mechanical process of creating rolling patterns on parts' surface. It can improve the visual appearance or create a better grip on parts' surface, and it plays the role of anti-skidding.
SuNPe
provides the knurling manufacturing service to you.

2.What kinds of knurling can be done at SuNPe?
SuNPe can do all kinds of knurling on
rapid prototyping
,
low-volume productions
and mass production parts . Here, we list three main types of knurling .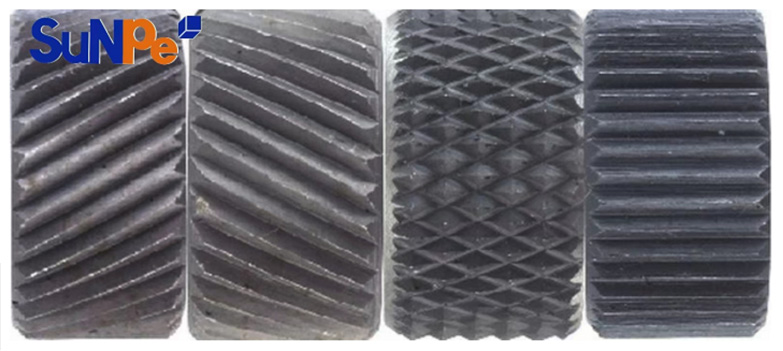 (knurling type at SuNPe)
2.1Straight knurling
It is a pattern of straight, also known as a linear knurl pattern, it includes a series of linear straight ridges. At present , it is one of the knurlings that we commonly used.

2.2 Diamond knurling
It is a special kind of reticulated knurling, with a grain angle of 30° or 45°, also known as cross reticulated knurling. It is mainly shaped like diamonds, so we like to call it "diamond knurling". It is one of the knurlings that we commonly used.

2.3 Angular knurling (left hand and right hand knurling)
It consists of straight ridges in an angular direction and is typically used in order to give extra traction to an external handle or other connective piece.

What parts/materials can be knurled?
CNC
lathing parts can be knurled, their materials are mainly metal materials, such as steel, brass, aluminum alloys, but hard plastics also can be knurled. Knurled patterns are visually attractive and easier to grasp than smooth surfaces.
The knurling application that we commonly see is knurled nuts, such as brass nuts, steel nuts and plastic nuts, etc.. These knurled nuts are widely used in automobiles industry, electrical components, electric appliances, medical devices, etc. For nuts
over-mould
in
vacuum casting
and
injection molding
, we often use such knurled nuts.
To meet the requirements for all customers, we are insist on providing one-stop service from
prototyping
to low volume production on customize projects. To satisfy our customers, we always adhere to the principle of customer-centered and quality first.
Any more want to know about, welcome to
contact us
.